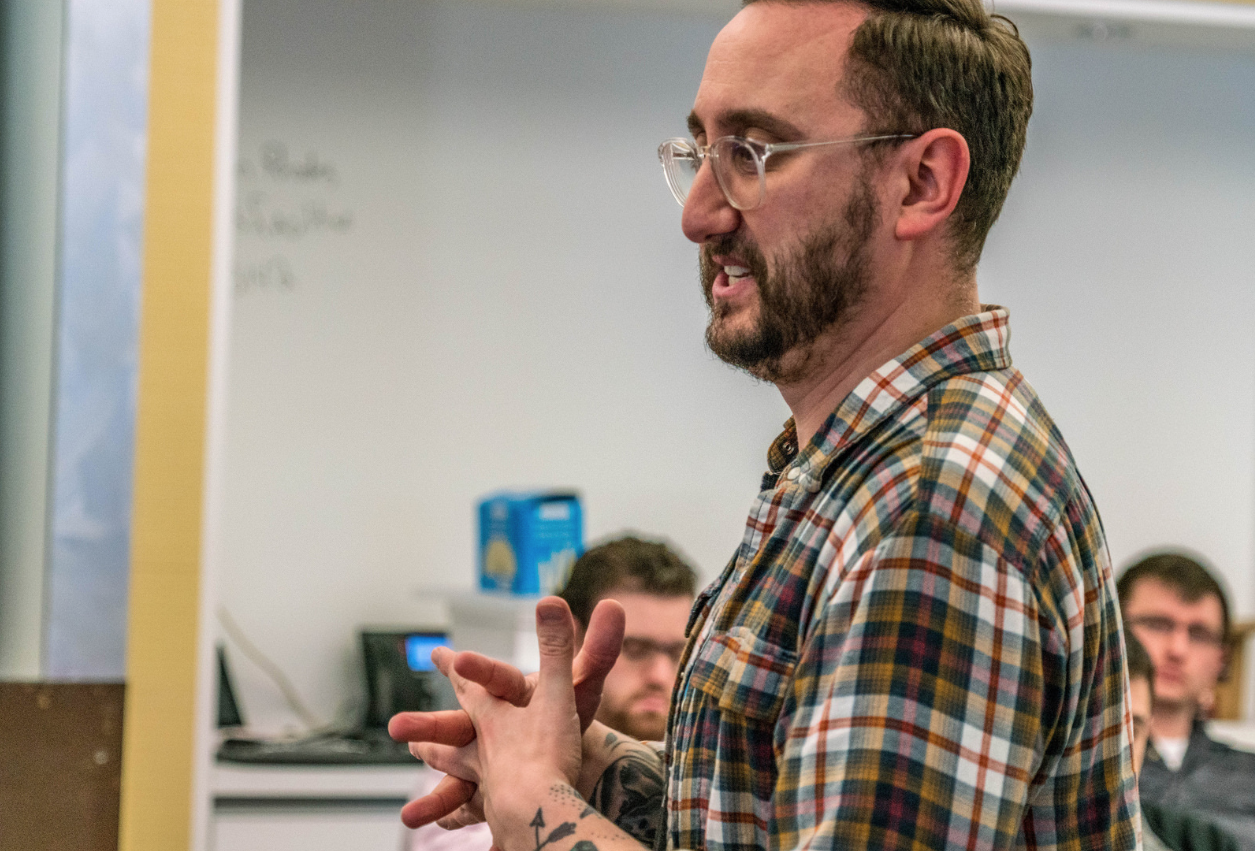 Hey, I'm Matthew Rossana!
i'm a ux designer and design thinker.
My passion is creating delightful experiences for users. I accomplish this by applying design thinking methods to solve complex problems, and relentlessly iterating on my solutions.
I've also found over my career that these solutions return the best results when I am collaborating with others. I make it a goal to educate others and bring them in to the design process. Within projects, I always stress the importance of multidisciplinary collaboration to create solutions that work beyond design. I also give presentations and facilitate workshops on user-centered design to educate colleagues companywide.
Professional Experience
Senior User Experience Designer
July 2012 - Present
Quicken Loans
Detroit, MI
Worked with collaborative, cross-functional agile teams to create engaging user experiences for client-facing web and mobile products. Applied design thinking methods to solve complex problems, and iterated on solutions by prototyping and user testing. Coached and mentored designers and other teams within the organization on design thinking by facilitating workshops and giving presentations.
Senior Web Designer
January 2009 - July 2012
Cengage Learning
Farmington Hills, MI
Produced visual comps, wireframes and XHTML/CSS/Javascript deliverables for the creation of e-learning websites while working with other designers, product managers and VP-level stakeholders to set branding and design standards. Worked closely with programmers to integrate code into content management system templates and ensure accurate design implementation. Collected and incorporated feedback from usability tests to improve the overall user experience and aesthetic appeal of all interactive products.
Multimedia Art Director
November 2007 - December 2008
Campbell-Ewald
Warren, MI
Acted as digital leader and educator for Campbell-Ewald Digital across departments and accounts. Created production design concepts for several brand launch and automotive point-of-sale projects. Lead creative direction for interactive engineering team, provided mentorship to junior staff, and effectively lead User Interface, Information Architecture, standards compliance, and accessibility concerns for Chevrolet Digital Creative team initiatives.
Project Leader/Supervisor, New Media
September 2004 - November 2007
Detroit Media Partnership
Detroit, MI
Oversaw creative execution and development of New Media projects from conception to completion, while maintaining and facilitating correspondence between departments, management and production. Acted as consultant on online ad operations and participated in many venture groups to develop new products, increase online audience and enhance branding.
Art Director
March 2002 - September 2004
Red Diamond Design
Troy, MI
Other Professional Endeavors
Interactive Director
June 2011 - August 2016
AIGA Detroit
Detroit, MI
Maintained website for the Detroit chapter of AIGA, volunteered at events, and developed web-focused workshops.
Freelance Art Director
December 2008 - March 2013
Kunoichi (Acquired by Manifest Digital)
Chicago, IL
Select Clients: Hasbro, Codemasters, Shaun White
Web Design Instructor
September 2007 - September 2008
College for Creative Studies
Detroit, MI
Freelance Web Designer
July 2005 - January 2007
JWT Specialized Communications
Chicago, IL
Designed and built corporate careers-based web sites. Participated in corporate brand discussions and worked to maintain corporate identity in design and presentation of interactive products.
Select Clients: GM, Nissan, Astra-Zeneca, Hilton, Wellstone Communities, Providence Health
Digital Skills and Capabilities
Software: Currently using Sketch and InVision. Proficient in Adobe Photoshop, XD, Illustrator, Axure, Word, Excel, PowerPoint, Keynote, Basecamp, and many wireframing utilities. Highly adaptive to new technologies, online trends, and social media.
Platforms: Mac OS, iOS, Windows
Languages: HTML / CSS, Javascript
Education
Bachelor of Fine Art, Major: Studio Art
Kalamazoo College
Kalamazoo, MI
Rocket Mortgage
During my time at Quicken Loans working as a Senior User Experience Designer, I have primarily worked on Rocket Mortgage, which is the company's flagship product. When I was first hired, I joined the team when Rocket Mortgage was merely a concept, and now 98% of all clients will use it at some point in their mortgage process. I have worked on the experience of clients that are discovering the product for the first time, clients that are applying for a mortgage, and clients that are in the process of closing their on their mortgage. My roles in the process having included journey mapping, wireframing, visual design, and participating and leading brainstorming sessions that envision the future of the product.
Presentations and Workshops
In my spare time at Quicken Loans, I have done a lot of presentations and workshops to help evangelize the design thinking process, and to educate people in the company on ways they can bring some of these concepts into their day-to-day work. I have participated and facilitated many week-long design sprints, and given multiple presentations and workshops on design thinking. I have also given presentations on sketching, the importance of mobile-first design, and what I've learned from facilitating design sprints.
Contact me
Please complete the form below